India's online gaming revenue is expected to jump by 45 percent this year as players turned to their mobiles during Covid-19 lockdowns, with esports one of the fast growing stars of the segment.
According to a KPMG report, the total online gaming user base surpassed 400 million in July. Casual gaming is still the largest sector of the market with revenues estimated at INR36 billion to 39 billion this year ($486 million – $526 million). However, real money gaming is gaining significant traction, with the segment likely to be worth INR25-30 billion this year, with more than 90 percent of those playing on mobile.




Although a small segment of the market at present, esports is seen as having significant potential and is attracting overseas interest.




"esports, as a category, is poised for massive growth in India," All India Gaming Federation head Roland Landers said in the report. "This is evident from the multiple platforms starting to emerge alongside growing interest from international players in an evolving ecosystem driven by growth in the number of professional gamers in India."




A quick look at India's demographics help to demonstrate the market potential. About half of its 1.3 billion people are under the age of 25 and are keen gamers. Indians downloaded 5.6 billion gaming apps in 2019, a record for anywhere in the world. While internet and smartphone penetration is also growing fast, helping boost growth.





" The success of PUBG has made the gaming ecosystem realize that India is ripe for monetization,"

PUBG is by far and away the most popular esports game in India. Launched in 2018, it managed to attract more than 13 million daily active users in the second half of 2019, just a year after launch. Perhaps more importantly, KPMG says PUBG has helped shift attitudes in India, managing to get Indians to pay for games.
"The success of PUBG has made the gaming ecosystem realize that India is ripe for monetization," it wrote.
The company set up infrastructure including talent programs, a ladder system for tournaments and huge amounts of prize money.
"Post launch of PUBG Mobile,
mobile game downloads have increased by 8 to 10 times
," Niko Partners Director for Southeast Asia Research, Darang Candra, said. 
However, it's not without its challenges. In October, the Indian government banned PUBG and other apps with ties to China due to public security concerns. The game was distributed in India by China's Tencent.
"The ban of the game didn't just impact players of the game, it also impacted the fast-growing esports and influencer ecosystems as numerous Indian Youtubers and esports pros had built massive followings through playing PUBG Mobile," Darang said.
He cited data from Sensor Tower showing the ban of the game led to iOS and Google Play game revenues in India declining 9 percent between August 2020 and September 2020, compared to a 5 percent growth rate during the same period last year.
PUBG has already said it's coming back after having told the Chinese company it is no longer authorized to distribute the game. It's planning to set up a new Indian subsidiary and together with parent company Krafton plans to invest $100 million to help develop India's eSports and gaming industries.
That will come with jobs, with the Indian unit expected to take on about 100 people, as well as a pledge to collaborate with other local Indian businesses to develop gaming services. It will also come with a new Indian version of the game and an accord with Microsoft Azure to store data securely in India.
Another hurdle when it comes to gambling on esports in India is the country's regulatory framework. In theory, skill-based games are legal and esports comes under the category of skill-based gaming. However, along with a spike in user numbers has come increased regulatory scrutiny, with several states recently announcing bans on all gaming skill-based or not.
"It is a concern, but so the far skill-gaming category has persevered," Darang said, pointing to a legal challenge to India's leading fantasy sports companies, Dream11.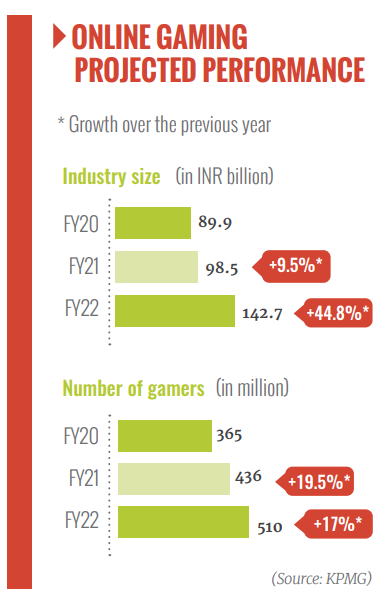 That challenge ultimately went as high as the Supreme Court of India, which found in the company's favour.
"This indeed boosted the morale of the industry as a whole," he said.
After seeing the success of PUBG in India, there has been a rise in interest from international teams and players.
Team Vitality, a professional esports team from France, as well as organisations such as Fnatic, TSM, Noblegg, and Nova Esports have all set up shop in India.
---
RMG market to hit $3.8b by 2024
India's online skill-based real-money gaming (RMG) market is expected to grow to become US$3.8 billion by 2024 on the back of growing digital infrastructure – breakneck speed of growing smartphone penetration, low cost of data and vast digital payment infrastructure allowing individuals access to instant real-time inter-bank transactions.
---
Finance Minister supports legal sports betting
India's Finance Minister Anurag Thakur said the country should legalize sports betting to weed out corrupt practices such as match fixing. Speaking at an ICICI Securities event he said: "My suggestion will be to legalise betting and gambling activities, which are underground. They continue to exist in our society," he said. Thakur's stance seems to run counter to a growing number of individual states in India, which have recently announced plans to ban all forms of betting, including skill-based games, which are permitted under a Supreme Court ruling.